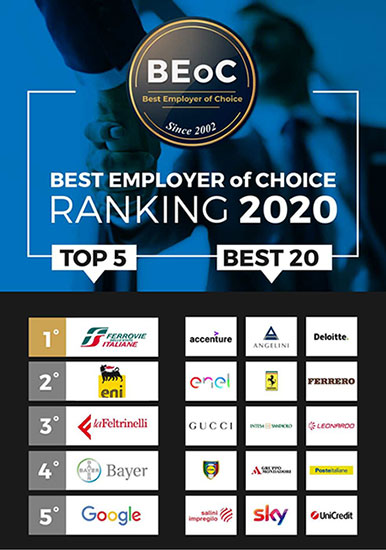 Again in 2020, FS Italiane is the Best Employer of Choice, coming in first amongst the most coveted companies in which to work for recent Italian graduates.
On the podium, which is all-Italian for the first time in 7 years, coming in second and third places are ENI and Feltrinelli respectively, followed by Bayer and Google.
This recognition confirms the FS Group's commitment to date in seeking to attract young talent upon conclusion of their studies. Job meetings, workplace orientation seminars, Career Days and the organisation of specialisation courses and higher education schools, the development of training and research projects – these are the main tools enacted by FS Italiane in its approach towards the world of university.
Each year, based on a representative sample composed of 2,500 respondents, the Best Employer of Choice seeks out the main features regarding recent Italian graduates, through an in-depth study into the opinions, attitudes and preferences of the young people interviewed in regards to three specific areas:
The university path undertaken;
The labour market;
The approach to job-seeking and the methods adopted.

In addition to the traditional ranking of companies that most attract graduates as a workplace, the survey offers significant guidance on how young people are oriented in the employment market.