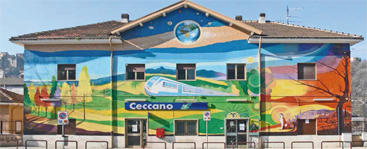 In addition to assets that are functional for its core business, FS Italiane Group also owns extensive real estate holdings, some of which are no longer used, consisting of railway stations, booths and tracks.
To date, in collaboration with local bodies and non-profit associations, 491 stations have been dedicated to activities that enhance the value of the area or activate services for the public. Overall, roughly 118,00098 m² have been allocated for these purposes, with a total value of approximately €176,600,000.

There are about 1,400 km of idle railway lines, including definitively discontinued lines pursuant to Ministerial decrees, and lines discontinued due to route variations, that could potentially be used for social initiatives and soft mobility. To date, over 400 km of idle lines have been converted into tourism lines, bike paths and greenways.