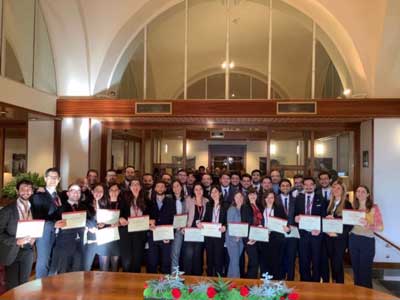 The aim is to promote scientific and technological research and train highly-specialised professionals in the field of integrated mobility and transport. The FS Mobility Academy is a post-graduate training programme, arising from the partnership between Ferrovie dello Stato Italiane and the Federico II University of Naples, focused on engineering and economics graduates.
The advanced training course is organised within the Technological Hub of San Giovanni in Teduccio (Naples), with teaching workshops, practical and theoretical lessons involving the top managers of the FS Italiane Group. The Steering Committee is led by Prof. Ennio Cascetta and is comprised of the upper echelon of FS Italiane and academics from the Federico II University.
The multidisciplinary pathway promotes scientific and technological research linked to Industry 4.0 sustainability and development. Students of the first edition 2018-2019, which ended in December 2019, were in fact faced with the reality of transport and project work within FS Group companies.
This fruitful collaboration between the FS Group and the University generated a placement rate of approximately 100%, with the recruitment of young students in the Group companies, in particular Trenitalia, RFI, Busitalia Sita Nord, FS Sistemi Urbani, Italferr, Italcertifer and Mercitalia Rail.