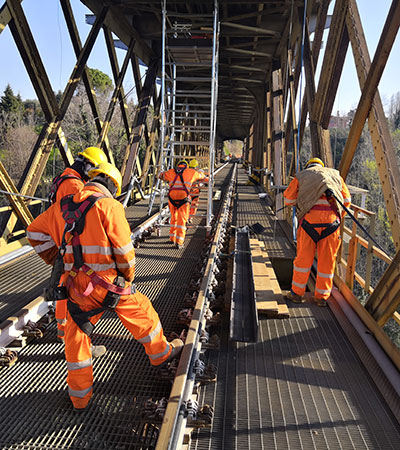 The two-year work plan set out by Rete Ferroviaria Italiana (FS Italiane Group) involves both the road surface and the railway itself.
In the first case, one of the many things scheduled is the demolition of the existing road surface, and the complete substitution of the expansion joints. As far as the railway bridge is concerned, the work mainly consists in replacing all the metal components.
The plan was presented in the meeting held on 9 October 2018 – which was attended by the Minister Danilo Toninelli, and parliamentarians from the provinces of Bergamo and Lecco, the Region of Lombardy, the presidents of the provinces and the mayors of the municipalities involved.
During the meeting, the FS executives gave a detailed explanation of the work undertaken to deal with the emergency and the timeframe for work to start.
The bridge rebuilding work has been entrusted to the Temporary Association of Companies (RTI) formed by Luigi Notari Spa (lead constructor), FADEP (principal constructor) and by the RTI of Seteco Ingegneria srl (lead planner) and the engineer Pier Giorgio Malerba (principal planner).
The work is expected to cost around 21.6 million euros, of which 1.6 million will be provided by the Region of Lombardy.