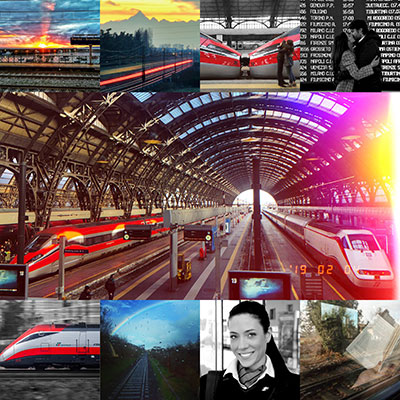 Trains and stations are transformed from mere locations into images capable of capturing architectural and artistic beauties, landscapes admired from the window and especially of narratives set amongst departures and arrivals with the lives that intertwine, the sensations, visions and feelings of travellers.
From these good intentions comes the new FS Italiane feature entitled RAILWAY heART, a project that aims to narrate the railway universe through the eyes, heart and artistic flair of travellers through the selection of photographic images.
The chosen photographs will be published in La Freccia, the free monthly publication aboard the Frecciarossa, Frecciargento and Frecciabianca trains, in the FrecciaClub at the stations, on Note - the digital weekly dedicated to regional transport customers - and on the FS Group #RailPost blog.
RAILWAY heART will also be much loved on social media networks. By using the hashtag #railwayheart, anyone can publish their photos on their Instagram, Twitter and Facebook profile or send the shots directly to railwayheart@fsitaliane.it.
There are four thematic sections: Places, People, Travelling and At Work. The images selected for publication must be the property of the sender, who will be required to sign a release. The shots must be free from watermarks, not exceed 15 Mb nor be less than 640 pixels wide and 960 pixels in height.