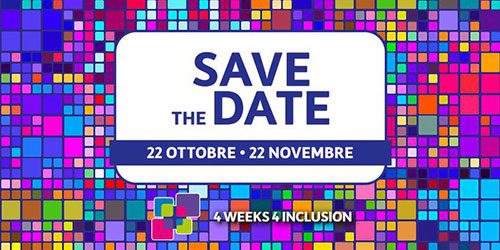 From October 22, 4Weeks4Inclusion starts, as the 4-week inter-company marathon dedicated to inclusion. This year, for the first time in Italy, the event sees over 200 companies involved in advancing the themes of Diversity & Inclusion, thanks to a rich programme of digital events dedicated to the 700,000 employees of the partner companies.
Amongst these is the webinar organised by the FS Group titled Diversissimo Me – identities that unite, taking place on 26 October, as a short but intense journey of discovery in which experiences and testimonies will alternate for an understanding of how different ways of being and thinking can facilitate and stimulate dialogue with others. Accompanying participants in this journey will also be Leonardo Adorni, General Manager of the International Festival of Contemporary Circus, Theatre and Music with "Tutti Pazzi Per Colorno". The webinar will be open to 1,000 people from the network of participating companies.

Amongst the latest developments for this edition will be 8 webinars also open to an audience of journalists and external parties. One such event is Stories of Inclusion, scheduled for 22 October, which will address the theme of social and economic development, starting from corporate policies on inclusion. FS Italiane will also participate in the general meeting together with authoritative representatives of the institutions and other companies involved in the project, such as American Express Italia, the BNL Gruppo BNP Paribas, Enel, Intesa Sanpaolo, Poste Italiane and TIM.

On 27 October is the fourth Women Power! webinar, in which the importance of increasing the presence of women in the professional realm for economic and social growth will be addressed. Anna Masutti, Chair of the Rete Ferroviaria Italiana, will speak on behalf of the FS Italiane Group.

The numbers of the first edition of 4W4I

The first edition of 4Weeks4Inclusion was held from 13 November to 11 December 2020.
For 3 December – on the occasion of the International Day of Persons with Disabilities – the FS Group had organised the webinar From a Different Perspective: a guided reflection on the topic, starting with some of the most common prejudices faced by those who live each day with a disability.
27 companies shared in 66 events, as a tour de force focused on diversity and inclusion, lasting over 150 hours and followed by over 10,000 people, along with some 160 guests.