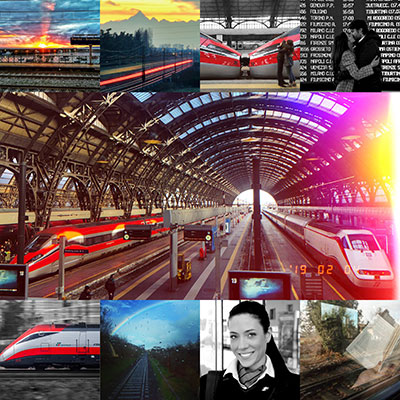 Art treasures, landscapes that unfold through the length of Italy, lives that intertwine between departure and arrival. And then there are the emotions, the journeys and visions of all the people that live and work in the railway world.
RAILWAY heART is the photo book from the Ferrovie dello Stato Italiane Group which portrays the people who have to play key roles every day, and the values they hold.
Over 40,000 photos have been published on Instagram with the hashtag #RailwayHeart, while the project has four macro themes: #polopasseggeri (passengers) #polologistica (logistics) #polourubano (urban) #poloinfrastrutture (infrastructure).
Using the hashtag #RailwayHeart, anyone can publish their photos on the Instagram profile, or send them directly to railwayheart@fsitaliane.it.
A selection of the pictures received has also been published on La Freccia, FS Italiane's monthly on-board publication that is handed out free-of-charge on Freccia trains and in FRECCIALounges.
The images selected for publication must be the property of the sender, who will be required to sign a release. The shots must be free from watermarks, not exceed 15 Mb nor be less than 640 pixels wide and 960 pixels in height.